Our Beginnings
Founded in 1992, Gra-Bar Fish is a New York-based wholesale distributor of quality fresh fish and seafood. The company is headquartered in Copaigue, Long Island in a state-of-the art-refrigerated warehouse.
Our Journey
We have come a long way over the years from our first refrigerated facility, which was a beautiful white van we kept parked in our driveway for the few hours a day it was not in use. As we began to grow and expand, we moved our base of operations, the van, to its new home at the Molin Fish Company. This was our first retail shop located in downtown Glen Cove. Grace Marie ran the storefront and managed the retail operation and Bart managed the wholesale clients.
From that shop, Gra-Bar developed a reputation for delivering exceptional, high quality products with unmatched customer service. Every piece of fish that went out the door was the best, or we didn't sell it, and every order was hand delivered by the owner. As a result, local restaurants, organic grocers and country clubs responded by relying on us as their primary fresh fish and seafood supplier.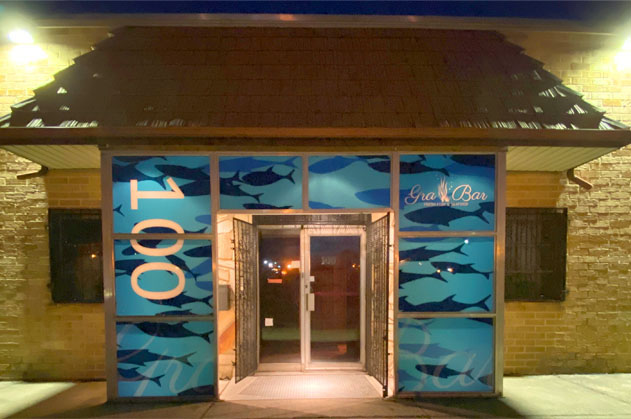 Our Future – And our new home
That is how we got our start, and since then not all that much has changed, aside from our size. Word of mouth spread from Chefs and Restaurant owners and before long we had outgrown our little shop as well. In the fall of 2003 we moved into a new larger refrigerated warehouse in Westbury.
In October 2019, we moved again to Copiague to an even larger, brand new facility, custom built from the ground up.
Our new facility is over 8,000 square feet, with a custom designed cooler that is 4,000 square feet. All of our cutting is done inside the cooler as always, which is strictly climate controlled, and remains at a brisk and constant 39 degrees.
Our Relationships
Our facilities might have changed over the years but our commitment to excellence and sustainability, and our focus on the specific needs of each of our customers has remained the same. We still maintain many of the relationships that we started years ago and we show our appreciation to our clients for their loyalty and recommendations by continuing to deliver the same level of service and quality they have come to expect from us.