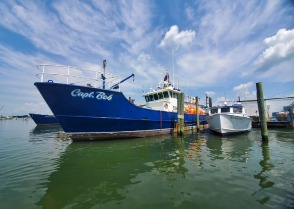 It is no secret some of the best wild caught fish comes from the waters off our Mid-Atlantic region. Sitting at the top of the list is "New York" Big Eye Tuna, regarded internationally as one of the highest quality tuna sashimi in the world. The supplier we are so fortunate to be working with is Kashiko Exports, who catches the most prime Big Eye Tuna around.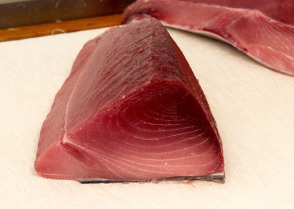 The 60 pound Big Eyes that come from Kashiko have a reddish-pink color to the meat, which is indicative of a higher fat content that truly makes the fish melt in your mouth, and why it works so well for sashimi, sushi and poke. For those that prefer to put some heat to it, a simple searing with sesame and seaweed crust preparation maintains the key distinguishing trait of this product.
Kashiko operates the Capt. Bob fishing boat which cruises off the coast of Maryland on three day trips and fishes with sustainable methods, namely the use of circle hooks. Circle hooks are generally defined as hooks having points that are perpendicular to the hook shaft, whereas non-sustainable J-hooks have points that are parallel to the shaft. The reason why circle hooks are better is because they greatly reduce the rate of "bycatch". It has been documented that circle hooks reduce the capture of sea turtles by 65-90%. In addition, circle hooks reduces the chance of hooking a fish in the gut, thus increasing the survival rate of any fish needing to be released.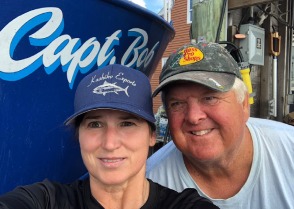 ​Kim Levins is the President and owner of Kashiko Exports and holds a BS in Marine Biology. We really enjoy working with Kim and the entire Kashiko team because of their superior product and their commitment to protect and revitalize while continually working alongside our government to create more efficient fishing practices. When Big Eye Tuna are running, usually late summer and throughout the fall, GraBar Fish can get multiple deliveries a month so make sure to ask if we have any in as they do go fast!